a collaborative multilingual game for any classroom
---
The goal of BabelAR is to welcome multilingualism in class and show pupils the value of the language(s) they possess and to activate their language knowledge.
---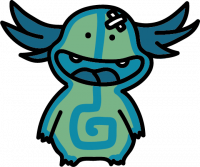 Welcome multilingualism in any class with BabelAR
Collaborative game for pupils aged 7-12 years
Possible to play in fourteen languages
iOS or Android
Tablet or Smartphone
Download for free!
Click above or search for babelar in the Google Play Store or App Store!
Do you want to know whether your device is compatible? You can check here.
---
About the game BabelAR
The game is aimed at pupils between 7 and 12 years old, and the pupils have to work together in this collaborative-multiplayer Augmented Reality (AR) game to reach a common goal. They will need to use their language(s) and language knowledge to help a little creature called Babel, who sadly enough has lost all its language knowledge.
Standard, minority, migrant and curriculum languages are incorporated in the game, which can be played with fourteen languages. These are Arabic, Basque, Dutch, English, French, Frisian, German, Irish, Italian, Polish, Portuguese, Russian, Spanish, and Turkish. Babel will not only take pupils on a linguistic journey, but also to three Augmented Reality worlds. In one of these, a swarm of animals will walk on their classroom floor. Pupils who played the game already were more than excited to share their languages and help their team members in the Augmented Reality worlds.
Are you a teacher and do you want to learn more about….
How to use the game BabelAR
Examples of multingual activities with BabelAR
How multilingualism is applicable in a curriculum
Read more here!
---
Nominations
Nomination Leeuwarder Courant Awards 2021

Nomination Belgian Game Awards 2021
---