Join us at our first Multiplier Event in Ghent, Belgium – 17 & 18 October 2019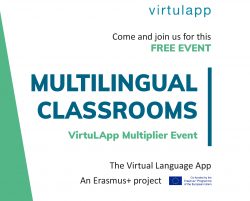 Come and join us at our free multiplier event on 17 & 18 October at the LUCA School of Arts in Ghent, Belgium.
Designed for teachers, principals, trainers, parents, researchers and the general public, this event will share information on language diversity and new technologies in primary education.
You will become acquainted with the latest developments in multilingual education, working with video in classroom settings and possibilities of serious gamification for language learning.
Register here.